The Nine Lives of Chloe King panel at Comic-Con has revealed shocking news today. Chloe will kill one of the main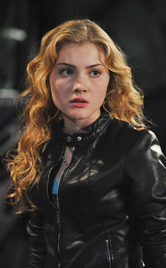 characters!
"I think you all know that Buffy is great, but Chloe King can take on anyone," joked Skyler Samuels, star of ABC Family's drama The Nine Lives of Chloe King.
After a 20-minute screening of next week's episode (with Teen Wolf actor Colton Haynes guest starring), executive producers Gina Girolamo and Dan Berendsen joined the cast, led by Samuels and Grey Damon, for a brief Q&A session, touching on everything from superheroes to stunt work.
"Chloe is a combination," Samuels says of her small-screen alter ego. "It's her supernatural edge with her teenage personality that what makes her a superhero."
With heavy stuntwork required on the show,
Alyssa Diaz
, who plays
Jasmine
, does all of her own work, Berendsen said.
But the session didn't finish without a teaser to tie viewers over. "Chloe is going to kill someone on this panel," Berendsen revealed at the end of the session. (In addition to Samuels and Damon, the talent on the panel consisted of Diaz, Ki Hong Lee, Grace Phipps and Amy Pietz.)
Who do you think will bite the dust?
Here's a bonus tease: When a Mai kisses a human, is it really fatal? The EPs confirmed that to be true but have they thought of an alternate way to be intimate? Girolamo coyly answered, "Oh we've thought of it, we're just waiting."
Cast member Benjamin Stone, who couldn't make it to the panel shared some Chloe-Alek spoilers, teasing that there will be some love between the two.
Ad blocker interference detected!
Wikia is a free-to-use site that makes money from advertising. We have a modified experience for viewers using ad blockers

Wikia is not accessible if you've made further modifications. Remove the custom ad blocker rule(s) and the page will load as expected.