The Nine Lives of Chloe King is making room for another heartthrob…
and this one comes in the form of a wolf (well, sort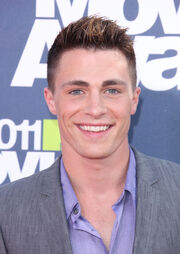 of). Colton Haynes, one of the stars of MTV's hit series
Teen Wolf
will be making a guest appearance in Chloe King's chaotic world.
So who will Colton be playing? A dark and twisted kinda guy according to Skyler Samuels:
"He's a very complex guy and he comes in and shakes up Chloe and the Mai and her human friends. She adds,"He's a new breed of critter for Chloe, and I think the people he introduces her to [are] definitely setting up some drama."
He sounds intense! Could this mystery character be an assassin from The Order of the Tenth Blade? What do you think?
Ad blocker interference detected!
Wikia is a free-to-use site that makes money from advertising. We have a modified experience for viewers using ad blockers

Wikia is not accessible if you've made further modifications. Remove the custom ad blocker rule(s) and the page will load as expected.