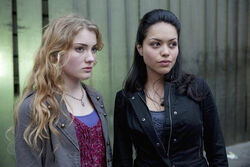 Hey Chloe King fans!
Episode 4 of the freshman hit The Nine Lives of Chloe King returns tonight! It sounds like Chloe is a bit overwhelmed by her newfound powers and must learn to control them...before they can control her! According to this trailer, it also seems like her romantic life is at a crossroads with Alek and Brian...whom do you prefer?
Watch the video and tell us what you think!
Video
Ad blocker interference detected!
Wikia is a free-to-use site that makes money from advertising. We have a modified experience for viewers using ad blockers

Wikia is not accessible if you've made further modifications. Remove the custom ad blocker rule(s) and the page will load as expected.