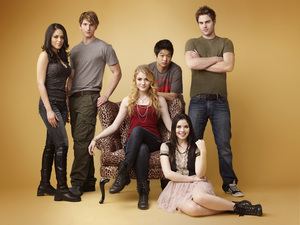 The Nine Lives of Chloe King is an American television series which runs ABC Family on June 14, 2011. The one-hour drama is based on the book series of the same name by Liz Braswell.
The protagonist, Chloe King, is a teenager who discovers she has special cat-like powers, including nine lives, superhuman speed, strength, hearing, agility, night vision and the ability to extend her nails like cat claws. When Chloe realizes a mysterious figure is shadowing her, she discovers that she is a descendant of an ancient race called the Mai. In addition to having 9 lives, Jasmine and Alek explains to Chloe that she may be the key to protecting the race from human assassins who have hunted them for more than thousands of years.
Ad blocker interference detected!
Wikia is a free-to-use site that makes money from advertising. We have a modified experience for viewers using ad blockers

Wikia is not accessible if you've made further modifications. Remove the custom ad blocker rule(s) and the page will load as expected.