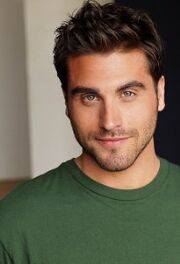 Richard Tanne plays
Cody
in the episode
Responsible
of
The Nine Lives of Chloe King.
Life and Career
Edit
Richard Tanne grew up in Livingston, New Jersey and later attended the prestigious film conservatory at SUNY Purchase in Westchester, New York. He made his feature-film debut as one of the leads alongside Kristy Swanson, D. B. Sweeney, and Robert Davi in the Syfy Channel original movie Swamp Shark. He is the star, co-writer (story), and producer of the independent feature film Worst Friends, which is currently in post-production and he also produced the upcoming horror movie Mischief Night, starring Malcolm McDowell. Additionally, he is the host and co-creator of the web show Cinema Cool, a movie culture talk show that highlights underrated, obscure, and classic movies.

Ad blocker interference detected!
Wikia is a free-to-use site that makes money from advertising. We have a modified experience for viewers using ad blockers

Wikia is not accessible if you've made further modifications. Remove the custom ad blocker rule(s) and the page will load as expected.