The relationship between characters Paul and Amy. Some fans call them Pamy.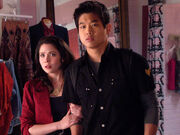 In "Pilot", Amy and Paul started dating officially. However, in they break up in Girls Night Out because Paul goes to the next level and Amy freaks out. In Nothing Compares 2 U, Paul helps Chloe save Amy and they get back together.
Ad blocker interference detected!
Wikia is a free-to-use site that makes money from advertising. We have a modified experience for viewers using ad blockers

Wikia is not accessible if you've made further modifications. Remove the custom ad blocker rule(s) and the page will load as expected.