Paul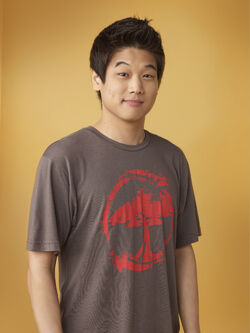 Date of Death
{{{Death}}}
Appeared In
{{{Appearances}}}
Mentioned In
{{{Mentioned}}}
Paul Chan is a human introduced in the first season of The Nine Lives of Chloe King. Paul is a main character in the show, and is played by American actor Ki Hong Lee. Paul is also a character in the The Nine Lives of Chloe King book series by Liz Braswell.
Personality
Edit
Paul is sown to be geeky and loyal. He also worried about Amy, who dumped him, when she started dating another guy.
Appearance
Edit
Paul has black hair and dark brown eyes. He is of asian descent.
Paul is a second-generation Asian-American obsessed with video games and comic books. He may look like a slacker compared to his high-achieving siblings, but he's always up for adventure -- and now that his best friend Chloe King is out to save the Mai, there won't be a shortage of thrill and excitement.
In the first episode Paul mentions that he's kissed Chloe before when they were younger. Paul is currently dating Amy. Later on, in Heartbreaker, Paul told Alek that Chloe broke his heart when they were 7 years old after the kissed.
Paul's relationship becomes damaged when Amy expresses to Chloe that she wished for a more romantic relationship. Chloe reveals this to Paul and tells him he needs to take it to the "next level." Unfortunately, Paul takes this the wrong way and instead of the romantic night out Amy is expecting, she comes to find him in her bed, fully naked, and ready to "take it to the next level"- meaning sex.
Paul often shows interest in everything and anything about Mai. He expresses his wish to be taken away by a secret race to fufill his destiny, and appears put off that Chloe is not as excited about being the Uniter as he would be. Paul takes his job as Chloe's "side-kick" seriously and does whatever he can to help her out. He is the one who first makes the assumtion that Mai can see in the dark. This later ends up saving Chloe when she is at gun point with Gabriel, the brother of Xavier, and Alek.
His Nickname is Comic Book King.
His theories about the Mai turned out to be right most of the time
It's implied he knew Chloe and Amy 12 years prior to the series
He's Korean and doesn't live near Chinatown according to Chloe
He was targed in the Pilot, but ironically in Beautiful Day he was not alongside with Amy.