Nikki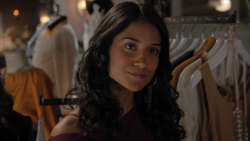 Date of Birth
{{{Birth}}}
Date of Death
{{{Death}}}
Family Members
{{{Family}}}
Mentioned In
{{{Mentioned}}}
Nikki is an antagonistic character in the The Nine Lives of Chloe King series. She was first introduced in "Girls Night Out", and is played by Hindi-American actress Melanie Kannokada.
Nikki is a Brazilian Mai girl. She and Lilah couldn't care less about humans. Nikki even went as far as kissing, and killing, a guy without any remorse. After Chloe rejected their offer of being taken to the São Paulo Pride, they started fighting with her and Jasmine. Nikki tried hitting Chloe with a pole, but she hit an electric current instead, and died electrocuted.
Ad blocker interference detected!
Wikia is a free-to-use site that makes money from advertising. We have a modified experience for viewers using ad blockers

Wikia is not accessible if you've made further modifications. Remove the custom ad blocker rule(s) and the page will load as expected.