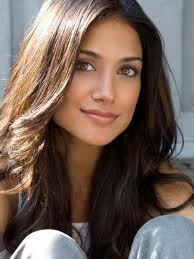 Melanie Kannokada is an actress, model, philanthropist, and former Miss India America who is quickly making waves in the media & entertainment world after having recently left a corporate job. Educated at Stanford University in the rigorous engineering program and employed by a prestigious management consulting firm right out of college, fate had other plans for this beauty pageant winner, whom Anokhi magazine rated one of the most "Sexy and Successful of 2010".
Melanie recently moved to Los Angeles, and within a week booked a large guest star role alongside comedy legend David Spade on the CBS hit sitcom Rules of Engagement and will make her guest star appearance on the ABC Family show The Nine Lives of Chloe King on July 12, 2011. She can also be seen playing the title role in the upcoming indie feature film Love, Lies & Seeta, hosting Sony's international TV series In the Qube, and modeling in a number of national and international campaigns for brands such as NesCafe, Herbal Essences, Crocs, Verizon, LG, Glamour Magazine, and Verizon. Melanie's story is as unique as it is inspiring. Growing up in a suburban Chicago town, her curiousity and drive led her to achieve success in a vast array of worlds, including earning a 2nd degree black belt in Shotokan Karate and competing on an international level, leading her high school cheerleading squad to national championships, composing tunes on the piano, and earning a degree in Mechanical Engineering from Stanford University, while a member of the Cardinal Cheerleading Squad and serving as Student Body President her final year. While Melanie's academic success led her to a competitive position at the venerable consulting firm McKinsey & Co., she quickly realized her heart belonged with her extracurricular passions and decided to make the leap to pursue them. She hasn't looked back.
Despite a busy schedule, Melanie makes time to use the network she has been fortunate to acquire to benefit those in need. She is a core team member of "Hospital for Hope," a not-for-profit organization dedicated to the construction of a hospital in an extremely under-served area of South Asia. She also has hosted and involved herself with several charity events for philanthropies benefiting those in need across the globe.

Melanie plays Nikki, a Brazilian Mai girl, in the The Nine Lives of Chloe King episode, Girls Night Out.