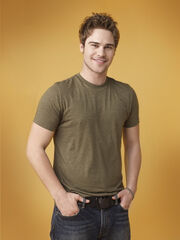 Grey Damon. born September 24, 1987, is an American actor who plays
Brian Rezza
in
The Nine Lives of Chloe King.
Damon is rapidly on the rise, having already been a part of two critically acclaimed series on television, True Blood and Friday Night Lights. On True Blood, Damon recurred as Kitch Maynard, the town's football star and golden boy. He can currently be seen on NBC's Friday Night Lights as Hasting's Ruckle, an East Dillon basketball player who is recruited to the football team. Other TV credits include The Whole Truth, Greek, 10 Things I Hate About You and 90210. On the big screen, he was seen in the independent feature The Devil Within.
Damon was born in Bloomington, IN, and raised in Boulder, CO. He caught the acting bug early and worked his first professional job at the age of twelve in a production of A Christmas Carol at the Denver Theatre Center in Colorado.
When not acting, Damon enjoys writing, drawing comics, and playing music. He resides in Los Angeles, California.
His celebrity crush is Kerry Washington.
He has a cat named Sophie. The Pilot made fun of this by Chloe saying, "You're a cat person".
His favorite fast food restaurant is Wendy's.
His favorite website is Stumbleupon.
He also plays Lee Labeque from the TV show, "The Secret Circle", which also only lasted for one season.
Ad blocker interference detected!
Wikia is a free-to-use site that makes money from advertising. We have a modified experience for viewers using ad blockers

Wikia is not accessible if you've made further modifications. Remove the custom ad blocker rule(s) and the page will load as expected.