Grace Phipps plays Amy.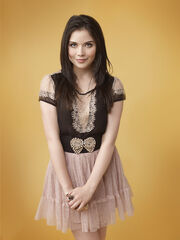 Phipps recently graduated from North East School of the Arts, a highly regarded school for the arts, in San Antonio, TX, where she starred in several theatre productions including Grease and A Little Night Music. In 2011, Phipps is due to appear in the Dreamworks feature Fright Night, starring Colin Farrell.
She graduated from San Antonio's high school for the performing and visual arts in 2010.
Grace also attended and worked at San Antonio's Magik Children's Theatre for most of her childhood and adolescence.
Ad blocker interference detected!
Wikia is a free-to-use site that makes money from advertising. We have a modified experience for viewers using ad blockers

Wikia is not accessible if you've made further modifications. Remove the custom ad blocker rule(s) and the page will load as expected.