Gabriel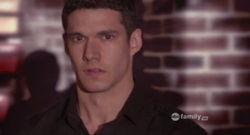 Date of Birth
{{{Birth}}}
Date of Death
{{{Death}}}
Mentioned In
{{{Mentioned}}}
Gabriel Akouri is a character in the The Nine Lives of Chloe King series. He was first introduced in "Redemption", and is played by American actor Alberto De Diego.
Gabriel is Xavier's older brother. He used to be be addicted to painkillers. According to Gabriel, Xavier moved to San Francisco in order to help him stay clean. However, their parents blame Gabriel for Xavier's death, stating they "have no sons".
After being convinced by Chloe to quit his drug dealing job, he was almost killed by the other dealers, but Chloe and Alek saved him. After the incident, it is unknown what happened to him.
Ad blocker interference detected!
Wikia is a free-to-use site that makes money from advertising. We have a modified experience for viewers using ad blockers

Wikia is not accessible if you've made further modifications. Remove the custom ad blocker rule(s) and the page will load as expected.