Frank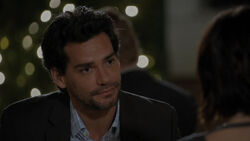 Date of Birth
{{{Birth}}}
Date of Death
{{{Death}}}
Appeared In
{{{Appearances}}}
Mentioned In
{{{Mentioned}}}
Frank Cabrera is a character in the The Nine Lives of Chloe King series. He was first introduced in "Nothing Compares 2 U", and is played by Chilean actor Cristián de la Fuente.
Frank is Meredith's new boyfriend/love interest. He has a fifteen-year-old daughter named Vanessa, whom he is not able to communicate with.
Meredith describes him as a hard-working guy, who is always on time and has the most beautiful smile. Frank invited Meredith to a cozy dinner on a ship, where they talked excitedly. He confessed he had been counting the days their job together would end, so he would be able to ask Meredith out. At the end of their date, they shared a passionate kiss.
In "Dogs of War", he finally met Chloe formally. He asked Meredith out again and talked with Chloe about his intentions with Meredith.
Ad blocker interference detected!
Wikia is a free-to-use site that makes money from advertising. We have a modified experience for viewers using ad blockers

Wikia is not accessible if you've made further modifications. Remove the custom ad blocker rule(s) and the page will load as expected.