Evelyn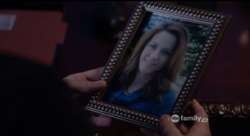 Date of Birth
{{{Birth}}}
Date of Death
{{{Death}}}
Appeared In
{{{Appearances}}}
Evelyn Rezza is a character in the The Nine Lives of Chloe King series. She was first mentioned in Redemption.
Evelyn is Brian's mom. She was murdered five years before the start of the series. Apparently, the Mai may have had something to do with her murder, for Whitley is shown to be completely willing to take revenge on the Mai for her death.
Ad blocker interference detected!
Wikia is a free-to-use site that makes money from advertising. We have a modified experience for viewers using ad blockers

Wikia is not accessible if you've made further modifications. Remove the custom ad blocker rule(s) and the page will load as expected.