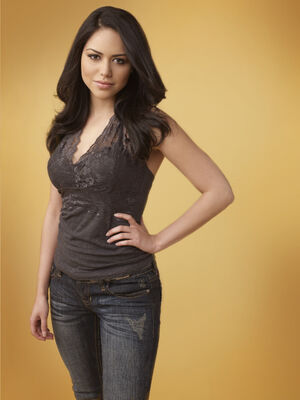 Alyssa Diaz plays Jasmine
.

A highly accomplished and talented young actress, Diaz recently wrapped production on director David R. Ellis' Shark Night 3-D (Final Destination series) to be released summer 2011. She can also be seen Red Dawn a modern remake of the 1984 classic about a group of teenagers trying to save their town from foreign soldiers'.
Diaz' upcoming television credits include Law & Order: Los Angeles, and Westwood, co-starring alongside Skeet Ulrich and Alfred Molina. Her past television credits include a recurring role on Southland, Lie to Me, and The Jensen Project a telefilm co-starring with Kellie Martin, Levar Burton and Patricia Richardson. Alyssa's other prominent television roles include As The World Turns and guest starring roles on CSI:NY, CSI:Miami, Greek, The Unit, Shark, ER and Three Rivers.
Now, Alyssa's welcoming a whole new movie adventure—a coveted role in the "Red Dawn" remake which features rising stars Chris Hemsworth, Adrianne Palicki, Isabel Lucas, Edwin Hodge, and Josh Hutcherson.
Diaz was also the lead role in Cartoon Network"s live action tele-film Ben 10: Alien Swarm, and co-starred opposite America Ferrara in the independent feature film, How the Garcia's Spent Their Summer - which premiered at Sundance.
Born in Northridge, CA, Diaz is of Colombian and Mexican-American descent.